Entertainment at Glencoe

Thursday August 2nd
Trucker Radio
Trucker Radio is a collection of veteran musicians from the Black Hills of South Dakota. Specializing in the music of AM radio that fueled 18 wheelers countrywide, Trucker Radio live shows aim to make everyone in the audience feel like an outlaw on the open road. From staples by Waylon, Willie and the Man in Black, to classics by the Hanks, Merle and Skynyrd, the music rides between the lines of outlaw country, the Bakersfield sound and classic rock and roll. It's natural, unfussy music from a much simpler time. Just like Ronnie sang, "I don't care for fancy music if your shoes can't shuffle around."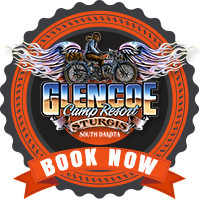 ---
Friday, August 3rd
Ryan Chrys
Ryan Chrys & The Rough Cuts. Modern Outlaw Country. Denver, CO. Ameripolitan Music Awards Outlaw Group. Nominated "Outlaw Group, 2018"
Framing the Red

Framing The Red has had the privilege of sharing the stage with such bands as Motley Crue, Sevendust, Black Stone Cherry, Cavo, Rains, Alien Ant Farm, Sevendust, Pop Evil, Hurt, Smile Empty Soul, Lynam, 10 Years, Saving Abel, Black Oak Arkansas and festivals such as Rocklahoma and Sturgis just to name a few! Framing The Red is the next "big thing", this band embraces Rock 'N Roll at its finest and is a firm truth that Rock 'N Roll is not dead…
---
Saturday, August 4th
Trucker Radio
Rick Monroe
World-class entertainer Rick Monroe brings his music and a magnetic presence wherever he goes. With a down-to-earth Country resonance, Monroe is no stranger to the stage: he's performed in 17 countries – and every U.S. state except for Oregon. The seven-time Jagermeister Country Brand Ambassador has opened for Eric Church, Dierks Bentley, Aaron Lewis, Eli Young Band, Charlie Daniels Band, Dwight Yoakam, Montgomery Gentry, Patty Loveless, Trick Pony, Emerson Drive, Pat Green, Randy Houser, Josh Thompson and more; entertained former Soviet President Mikhail Gorbachev, and U.S. troops in Vietnam. Last year alone he traveled over 100,000 miles and played over 120 shows.
Framing the Red
---
Sunday, August 5th
Ryan Chrys
Rick Monroe
Jasmine Cain
With so many miles behind and so many miles left to travel, Sturgis, SD, native, Jasmine Cain, has paved a way for female rockers in the motorcycle culture. Current NIMA (Nashville Industry Music Awards) Artist of the Year and Alternative Rock Band of the Year, Jasmine Cain has set the standard and raised the bar.
---
Monday, August 6th
Moonshine Bandits
Long before people figured out country and rap had a lot in common, the Moonshine Bandits released their genre-blending album, "Whiskey & Women," and took the world of outlaw music by storm. The group's blue-collar work ethic and unwavering persistence has led to over 28 million views on the ShinerTV YouTube channel – collectively over 40 million views on YouTube – while their video for "My Kind of Country" peaked at #1 on CMT Pure. The Bandits also charted Billboard simultaneously with a top 10 in Rap and a top 20 in Country Music.
Puddle of Mudd
Puddle of Mudd is an American rock band formed in 1991. To date, the band has sold over seven million albums and has had a string of No. 1 mainstream rock singles in the United States. Their major-label debut Come Clean has sold over five million copies. They have released two independent and four major label albums, with their latest being Volume 4: Songs in the Key of Love & Hate in December 2009, and their most recent compilation album being released in August 2011.
Jasmine Cain
---
Tuesday, August 7th
Ryan Chrys
Snake Oil Sinners
This is not a tribute band! Snake Oil's musical cast not only look like the rock stars they portray, but they use their own natural voices to perfectly impersonate the singing and speaking voices and stage mannerisms of these rock icons. Snake Oil's live theatrical shows are known for their impeccable authenticity to the original artists' recordings, with spectacular costumes, hilarious audience interaction and an array of incredible special effects. Snake Oil has an outstanding cast of world-class accomplished musical artists, talented singers, and technical support to ensure an authentic 80's arena-style rock show experience.
---
Wednesday August 8th
Moonshine Bandits
Snake Oil Sinners
Jasmine Cain
---
Thursday, August 9th
Snake Oil Sinners