Amenities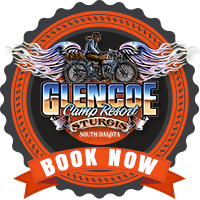 A huge part of Glencoe's appeal is its top-notch camping resort amenities that make for an easy, carefree, and exhilarating Rally experience. From the moment you set foot on the grounds of Glencoe CampResort, you'll find everything a traveler could possibly need, right at your fingertips. So head out and explore, or spend your Rally Week celebrating on-site and enjoying on-premise entertainment with your fellow Glencoe residents. Sturgis and the Black Hills offer plenty of opportunities for revelry and exploration…but with our inclusive amenities, you'll find that you never have to leave! The choice is yours…

---
When you're here, you'll enjoy:


With the purchase of a Glencoe wristband, you're entitled to partake in every event and enjoy every concert that performs at the Pavilion. For The Sturgis Motorcycle Rally we bring Big Names to the Glencoe Stage for your nightly pleasure!

SEE THE FUll line-up of free Concerts

---

Bikers come from the far corners of the earth to eat, drink, and be merry with people who share their passion. Guests who stay a Glencoe don't have to go far to do just that. Eat well and drink up at any of our three food and drink facilities and 1,250 picnic tables.
---
Immaculate Shower Houses & Bathrooms
You camp for the camping experience, but that doesn't mean that you should have to do without basic, hygienic necessities. Our campground features 150 restrooms with flushing toilets and 160 hot showers in the nicest, world-class, resort-style facilities in Sturgis.
---
There's more! Additional amenities include:
Motorcycle Loading Ramps
RV Dump Station
Free Morning Coffee (5AM – NOON)
24-Hour Security Gates
UPS/FedEx Shipments
Free Wi-Fi (in the Pavilion)
Coin-Operated Laundry Facilities
Off-Sale Package Beer and Ice