The History of Glencoe

Glencoe Then…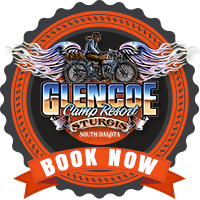 The very first Sturgis Motorcycle Rally in 1938 had just 9 participating bikers and a small audience of spectators. Today, western South Dakota's bike rally draws thousands upon thousands of bikers and spectators each and every year. In 1983, 600 acres of land east of Sturgis, South Dakota was purchased and transformed into a sprawling, comfortable camping facility to support the world's biggest and best manifestation of motorcycle culture as it caught on like a prairie blaze. This is the home of the original "Shade Valley for Biker's"

When the bikers demanded a clean and spacious home-away-from-home to pitch their tents and park their campers, a local Sturgis family ( started with the most beautiful shady valley and created the all-inclusive Glencoe CampResort. ) Throughout the last 20+ years since its inception, Glencoe has become an important icon in Sturgis Motorcycle Rally history.
Glencoe Now…
The Glencoe experience remains true to the heart and tradition of the Sturgis Motorcycle Rally and its faithful participants. The camping resort has made a number of improvements over the years to accommodate the wants and needs of its most important patrons: the motorcycle community. Today, Glencoe features 1,023 RV sites, 200 acres of shady valley land for tent camping, three dining facilities serving the Rally's best meal, and much more. Check out additional Glencoe amenities here.
Over the years, the Rally has made massive movements in incorporating large-scale entertainment with riding, racing, and stunts. Glencoe followed suit by bringing the world's largest amphitheater onto its premises, as well as the Rally's only covered, air-conditioned entertainment Pavilion. Since then, the Glencoe stage has seen many world-class performances by international pop culture icons.
Although Glencoe will continue to adapt to the changing shape of the Sturgis Motorcycle Rally in its 80th year and beyond, some things always stay the same. Glencoe is still the greatest way to experience the Sturgis Motorcycle Rally in all of its tradition, exhibition, and carousing spirit.